Foxtail Villa by Tender Leaf Toys
£195.00
Details
Using top quality birch plywood to construct the house and furniture made from sustainable rubberwood which never chips, Foxtail Villa is a toy that will really last. Supplied with the house is a set of modern furniture including a funky sofa, table and chair, cooker, sink unit, bed with covers, wardrobe, standard lamp, bathroom set and high level flush toilet, so whoever moves in here will be very pleased with the selection.
The neighbours are going to be jealous! This town house is very impressive… A large, wooden dolls house full of stylish furniture – it is sure to turn heads! But, as well as beautiful rooms to explore, this house has a very loyal friend – a fox lives in the garden and is very welcome, and the house is even named after him! Opening up to reveal a two-storey house, with plenty of room in the roof space to grow, this is a perfect little world to inhabit, invent stories in and just see what happens next!
Self assembly required.
Presented in an illustrated colour box
Suitable for 3 years +
Product dimensions: 44 x 37.5 x 71 cms

In stock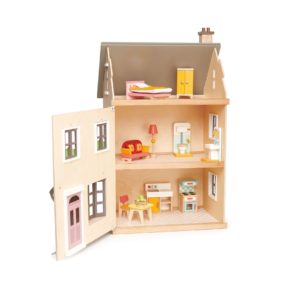 Foxtail Villa by Tender Leaf Toys
Buy Now
Subscribe to our Newsletter
For all the latest exclusive offers and information