Floral Rose Boutique Reed Diffuser – 500ml
£19.99
Details
These gorgeous floral rose reed diffusers are hand poured and come beautifully packaged with a lifelike rose and sprig.
Available in two sumptuous fragrances: Pomegranate Noir and Magnolia & Mulberry.
The diffuser bottle comes with 500ml of scented liquid and 6 reeds. Diffusion time is approx 4-6 weeks subject to room temperature and humidity.
Online price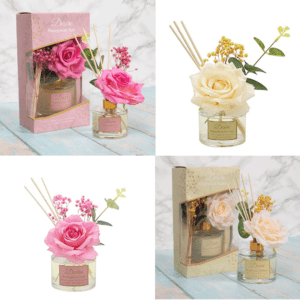 Floral Rose Boutique Reed Diffuser – 500ml
Buy Now
Subscribe to our Newsletter
For all the latest exclusive offers and information