Dolls House Kitchen Furniture by Tender Leaf Toys
£38.00
Details
A  Contemporary set of Doll's House kitchen furniture, with great attention to detail, painted in the most gorgeous colour palette. Dollies can really get creative in this kitchen and cook up a grand feast for the rest of the family!
Suitable for use in Foxtail Villa and Dovetail House or similar.
Set includes;
Island unit and 2 bar stools
Range style oven unit
Fridge
Butler sink unit
Kettle, fish pot, coffee machine with cups
2 plates
Recipe books
Baguette on a chopping board
Tray of freshly baked muffins.
Suitable for all the wooden dolls houses, as scaled to 1:12
Presented in an illustrated colour box
Suitable for 3 years +
Product dimensions: 25 x 17 x 15 cms

In stock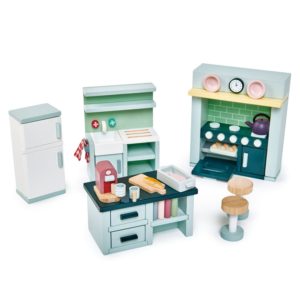 Dolls House Kitchen Furniture by Tender Leaf Toys
Buy Now
Subscribe to our Newsletter
For all the latest exclusive offers and information