Boston Futon Sofa Bed – Black Faux Leather
£349.00
Details
This fabulous Boston Futon Sofa Bed is full of style, a contemporary sofa bed that oozes class and sophistication. The Boston Futon is ideal as a standalone piece of practical and stylish furniture. Wrapped in luxurious and durable black faux leather with button and stitching detail, the slightly raised ends and curved chrome finish legs give a more expensive feel. This sofa easily transforms into a spacious spare bed by simply folding out the back rest.
Dimensions: W 1850 mm X H 860 mm X D 970 mm
Delivery is normally within 7-10 working days for Mainland UK (Subject to availability and Post Code Area) Some areas of the UK are deemed to be "Remote" and an additional delivery charge may apply, even for Free Delivery items. Please refer to our Terms and Conditions for further information.
Online only. Not available in Centres.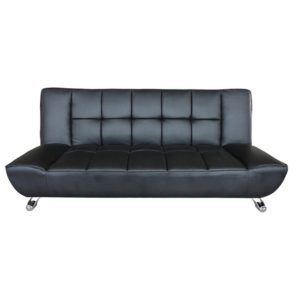 Boston Futon Sofa Bed – Black Faux Leather
Buy Now
Subscribe to our Newsletter
For all the latest exclusive offers and information